The Flu in Missouri, and What You Can Do About It
Whether it was you, a family member, or a co-worker, most of us have experienced or been exposed to the following symptoms: weakness, chills, fever, headache. The Flu has taken a toll on Missouri this season, and the numbers prove it. During Week 8 (February 18 – February 24, 2018) the Missouri Department of Health and Senior Services reported a total of 5,064 laboratory-positive influenza cases. This brings the statewide season-to-date total to 112,746 flu cases, with 1,309 of those cases resulting in Pneumonia and Influenza-related deaths. For comparison, the 2016-2017 season total (20 weeks) of flu cases in Missouri was 71,469, with 2,093 of those cases resulting in flu-related deaths.
Who is Most at Risk?
According to the CDC, young children, the elderly, pregnant women, and people with certain chronic health conditions are at high risk for serious flu complications. In Missouri, data shows that the flu has mostly affected the Northwest and Southeast regions, and the 0-4 and 5-24 age ranges.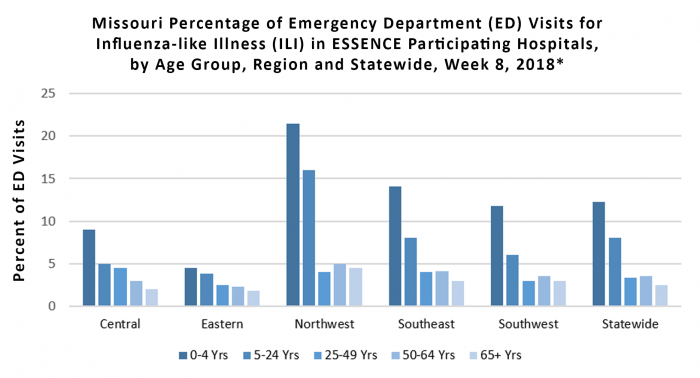 Why has the flu been more prevalent in certain areas and age groups? We don't have a definitive answer to that question.  However, in comparing the above research to Missouri KIDS COUNT data taken from the most populated counties throughout Missouri, we found that there is a significant number of children in those regions who end up receiving care for preventable illness.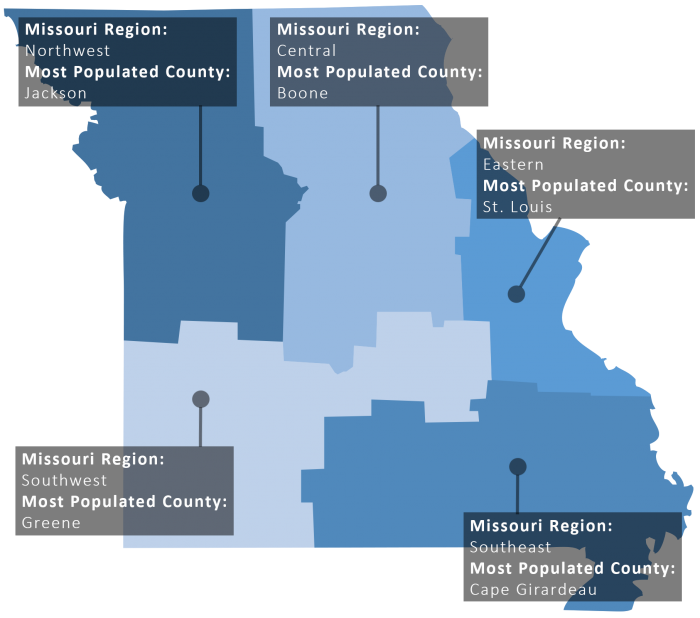 During 2014, Missouri's child population totaled 1,392,623. During this same year the most populated county in each Missouri region had a total child population of 499,855. Combined, these five counties make up about 36% of Missouri's child population; the most populated county in Missouri, Jackson County which houses Kansas City, makes up about 16% of the total child population statewide.
Missouri KIDS COUNT data also showed that 10,540 children had preventable hospitalizations statewide during 2014. 3,983 preventable hospitalizations occurred in the most populated county in each Missouri region. The most recent Missouri KIDS COUNT state page indicates more than 7% of Missouri's children are not covered by health insurance, which can slow access to health care providers and services, increasing the risk for these children of negative outcomes from the flu and other conditions.
Flu Resources
Data shows that the flu virus can target specific demographics and regions due to certain situations. However, precautions can be taken to decrease your risk of getting the flu. If you or somebody you know has already contracted the flu, there are resources available that can diminish your flu experience.
1. Education – Educate yourself on the Influenza virus and its symptoms. For more information on the Flu, visit the Centers for Disease Control and Prevention (CDC) website.
2. Prevention – There are multiple ways to prevent infection and illness. One of the simplest ways you can prevent the Flu is by washing your hands. A yearly flu vaccine is also recommended for everyone 6 months and older. Getting a flu vaccine every year is the single best way to prevent flu-related complications. Visit the Missouri Department of Health and Senior Services website to find a flu clinic near you.
3. Care Provider and Insurance – Having a primary care physician and health insurance is important in keeping you and your loved ones safe. Need help? Click here to find a doctor near you, or visit Healthcare.gov to enroll in health insurance. Missouri also provides healthcare options for low income households. Click here to learn more, or call (573) 751-3425.
March 5, 2018