Missouri's New Approach to Trauma
How Head Start Trauma Smart in Kansas City is Teaching Traumatized Children and Their Communities to Cope, Stay Calm, and Grow
Jayden knows what to do when he gets upset: use his breathing buddy, count to four, then talk to an adult about why he is angry or sad. It helps him to feel better and regain his calm.
These steps are just some of the techniques Jayden, and thousands of children like him, have learned through Head Start Trauma Smart, a program that teaches traumatized children in the Kansas and Missouri area how to manage their extreme emotional distress.
Like many of the children in the Head Start Trauma Smart program, Jayden has suffered enough personal tragedy to fill a lifetime. At the tender age of 4, he lost his father to an automobile accident, leaving Jayden and his three siblings in the care of their single mother.
Though he was always a happy, bright child, following the accident, Jayden's behavior changed dramatically: he began to throw tantrums, he threw toys; he was in a perpetual state of either extreme anger or distress; his constant nightmares kept him and the other children up at night, endangering the stability of his already fractured home environment. Without a playbook, guidance, or additional aid, Jayden's teachers and his mother feared the worst.
Enter the Crittenton Children's Center in Kansas City, where therapists and other professionals worked together to develop an early childhood response to complex trauma that would become known as Head Start Trauma Smart, and the driving force of positive change in Jayden's life.
The idea behind Trauma Smart was to go beyond individual treatment (i.e., technical fixes through one-on-one therapy) and instead engage the community directly surrounding the traumatized child: family members, teachers, caregivers, and fellow students. This approach would require each member of the community to alter their lifestyle, replacing practices that compounded, amplified, or ignored the affected child's behavior with elements that instead promoted resilience, well-being, and emotional health.
For children like Jayden, who have been traumatized, the routine of daily life can be challenging and often next to impossible. Their sleep schedule is erratic, fitful, and filled with nightmares. They often feel ill or at unease. They startle easily and live in a perpetual state of hyper-vigilance and dread. This type of chronic adversity interferes with the healthy development of a child, both emotionally and cognitively.
Unfortunately, there is no catered national response for children who struggle with these types of challenges. The education system, as a whole, exercises the same disciplinary action across the board, regardless of a child's background. When a traumatized child acts out in class by externalizing his or her symptoms through bad behavior, there is nothing in the established playbook that accounts for the causes of this behavior—they are reprimanded the same as their unaffected peers. This is often to the detriment of the child.
With the Trauma Smart model, when Jayden is angry or feeling overwhelmed, there is a specialized protocol to help him regain his composure. If he is upset at school, he goes to the designated area in his classroom to use his breathing buddy—just one of the many available tools that encourage him to breathe deeply, regain awareness and, in turn, calm down. Outside of the classroom, Jayden continues to receive support from his family and the other caregivers in his community. His bus driver, the cafeteria personnel, and even the custodial workers have all received training on how to interact with traumatized children, ensuring Jayden's healthy development continues.
This type of training is a key component of the Head Start Trauma Smart model and was developed based on the highly recognized ARC (Attachment, Self Regulation and Competency) framework. It teaches those adults in Jayden's community how to react more appropriately, responding in a manner that is both conducive to Jayden's overall well-being and their own emotional health. One of the most important lessons adults learn through the Head Start Trauma Smart program is that the best way to care for a traumatized child is to first take care of, and to calm, themselves.
Though it has just cleared its inaugural phase, the Trauma Smart initiative has already yielded very promising results. Using the University of Virginia-Charlottesville Curry School of Education CLASS tool, Head Smart Trauma Smart classrooms have achieved significant and consistent gains in both classroom climate and teacher sensitivity. As a corollary to those gains, significant improvements in academic performance have been achieved as well.
Beyond an improved classroom culture and academic performance, Trauma Smart implementation also represents several potential cost saving measures that could play a substantial role in freeing up a district's financial resources. For example, children like Jayden, who externalize the symptoms of their trauma, are likely to receive an Individualized Education Program—a uniquely tailored curriculum meant to address the specific needs of an individual child. Though this measure is an attempt to go beyond the traditional response to children with emotional disabilities, it is an expensive one.
The average annual cost per student for an IEP is approximately $33,000. Conversely, and based on the initial development period of the program, the annual cost for a classroom of 20 children and their community of caregivers to participate in the Trauma Smart model is approximately $9000, roughly 25% the cost, and a savings of about $24,000.
Since becoming involved in Trauma Smart, Jayden has continued to take strides in a positive direction. Through training, therapeutic support and with the help of his teachers and caregivers, that same happy child everyone remembers has returned, and with the help of the Trauma Smart program, he's going to stay.
Though it started in Kansas City, the intention at Crittenton Children's Center is to help traumatized children and their communities everywhere. Since its inception and the national recognition that followed, Trauma Smart has been replicated and introduced into Head Start classrooms in 26 counties in the Kansas City metro area and across Missouri and its model is being studied everywhere, all with the hope that children who suffer these traumas will be cared for and encouraged to develop in a healthy and positive manner.
For more information, please visit traumasmart.org.
Additional Information
"Three or 4 year old children who have been exposed to trauma are at much greater risk of lacking biological foundations or the behavior skills that will allow them to succeed in school and in life. The trauma keeps stealing their opportunities moment by moment and day by day."
The Crittenton Children's Center in Kansas City has developed a training program, Trauma Smart, that has been in place in Head Start classrooms since 2010, to counter the all too common childhood exposure to chronic trauma. Trauma Smart trains not only the child, but the adults who care for them, teaching them resilience, self-care, problem-solving, deep breathing and calming themselves.
Trauma Smart combines the best trauma therapy science with early education in the most natural setting of the classroom. Crittenton is studying how to scale up so that Trauma Smart can be offered in classrooms across Missouri.
Missouri KIDS COUNT is pleased to highlight the work being done by Crittenton.
Helpful Links
The Truth About ACEs Infographic
Adverse Childhood Experiences Fact Sheet
Trauma-sensitive Schools in KC
Telomeres and Social Disadvantage
Little Children, Big Challenges
Teaching Children to Calm Themselves
December 22, 2014
Take A Closer Look: Children and Trauma
Nationwide, 25% of young children by the age of 4 have experienced at least one traumatic event.

The Achenbach Caregiver report is correlated with DSM IV diagnoses and reflects behavior in the home as observed by parents and other caregivers. The Achenbach Teacher report is also correlated with DSM IV diagnoses and reflects behavior in the classroom as observed by the teacher. Data from both the Achenbach Teacher and Parent reports shows that more than two thirds of those children who were in the borderline or clinical ranges of concer on the pre-treatment assessment had improved diagnosis in the post-treatment assessment in most areas.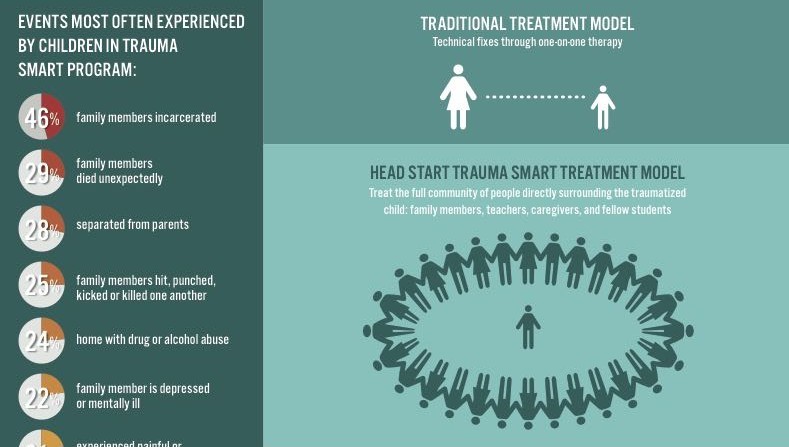 Dowload the PDF