Oral Health Among Missouri's Kids
Eating right. Exercising. Getting a good night's sleep. Kids are taught at an early age that all of these factors contribute to our overall health. But taking care of our teeth and gums is a topic that is frequently overlooked.
Maintaining good oral health is more than regular dentist visits. Teeth brushing, flossing and eating right are essential to maintaining that healthy smile… and a healthy life. By educating children on proper oral health, they will carry those best practices with them into adulthood.
According to the Missouri Department of Health and Senior Services, healthy teeth lead to better overall health. Children miss fewer days of school; adults have better job prospects; and overall, when tooth decay is prevented, people can enjoy lower health care costs. But is Missouri and its kids keeping up with oral health?
The National Inter-professional Initiative on Oral Health reports that dental caries (tooth decay or cavities) is the most common chronic disease of childhood. On a national scale, 25 percent of children ages 2 to 5 and half of children ages 12 to 15 suffer from tooth decay. If left untreated, tooth decay can result in problems with eating, speaking and learning.
Missouri Oral Health Data shows that among Missouri's kids, 16.9 percent of Hispanics 18 and under have untreated tooth decay in their permanent and primary teeth. That percentage is 16.3 percent in African American kids, 14.1 percent among whites and 18 percent among other races. In regards to access to dental services, 40 percent of Medicaid-eligible children in the state do not access dental services. More so, it is estimated that less than half of Medicaid-eligible pregnant women access dental care during pregnancy, which contributes to poor oral health outcomes in underserved children.
Many variables influence this low usage rate, but one primary cause is that the vast majority of counties in Missouri have been designated by the federal government as "Dental Health Professional Shortage Areas." Particularly, the majority of the state has a low-income dental HPSA designation, depicting the large number of Missourians at or below 30 percent of the federal poverty level who do not have adequate access to oral health care.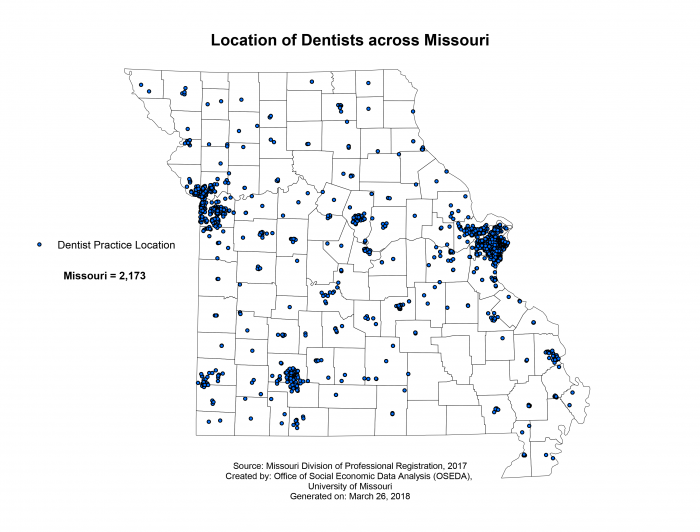 The Columbia Missourian recently reported on the availability of dentists in Missouri. In 2016, Missouri had 48.5 dentists per 100,000 people, below the national average of 60.8 and a ranking of 41st in the nation. The state ranked 41st for number of residents who saw a dentist.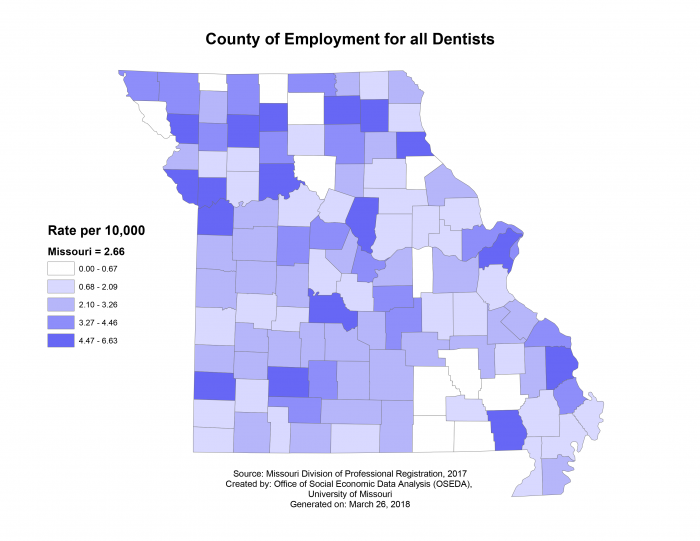 A 2014 report by Missouri's Health and Senior Services sheds light on the state's patient-to-dentist ratios. Counties such as Shannon and Wayne in the south and Ralls, Worth and Mercer in the north had zero dentists available in their counties. And while the overall state population-to-dentist ratio is 1,846:1, the average county ratio is 3,748:1. In those counties with a dentist, the lowest ratio is in Marion County (563:1), while the highest ratio is in Pemiscot County (17,823:1).
But There's Good News
According to the National Kids Count, in 2015-2016, 73 percent of Missouri's kids teeth were in excellent or very good condition. Also during that time, 71 percent of Missouri's kids had received preventive dental care in the past year.
The Bottom Line
Although Missouri is in need of more dentists for its kids and adults, parents can be the driver in providing an environment where their child knows how to practice good oral health. And in that environment, those methods can be put into action, and children can be healthy and thrive.
May 9, 2018