Poverty's Impact On Missouri's Children
How are government programs helping relieve poverty in MO?
Last week we showed you a snapshot of what poverty looks like in the United States and in Missouri. Poverty is all encompassing, and impacts many areas of a child's life. This week we will take a look at some of the most effective poverty relief programs – programs that shield children from the effects of poverty. For those programs to work, they need to be maintained, supported, and in some cases expanded. The Children's Defense Fund released a report last week, "Ending Child Poverty Now" recommending that expanding investments in existing programs and policies that work can shrink overall child poverty by 60%. Some of those programs include Earned Income Tax Credit (EITC), expanded child care subsidies, and increasing SNAP benefits.
The Neurological Effects of Poverty
A premier study done at Washington University in St. Louis, MO explores the relationship between poverty and brain development in children. Their study findings demonstrate that exposure to poverty during early childhood is associated with smaller white matter, cortical gray matter, and hippocampal and amygdala volumes measured at school age/early adolescence. These are regions of the brain that deal with stress regulation and emotion processing. This study also found that early caregiving and nurturing can mediate the effects of childhood stress and trauma on the brain.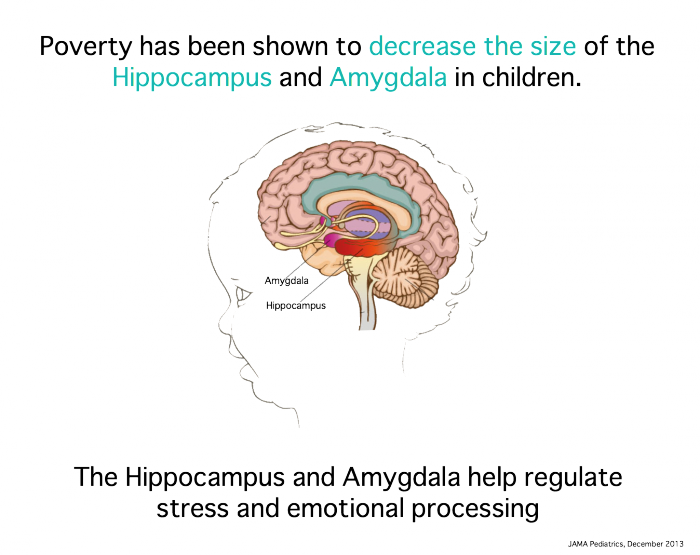 Not only does this study demonstrate the importance of poverty reduction, but also that the damaging effects of childhood poverty can be prevented. Supporting and expanding programs that work to reduce the harm of the stressors of poverty on children can help mitigate the potential lifelong consequences of growing up in poverty. No child should fail to thrive because of circumstances that are out of their control.
Children suffer the most from the blows of poverty. They are most affected by stressors such as food insecurity, poor education, lack of quality child care, poor housing and adverse childhood events because they are still developing both cognitively and psychosocially. There are several federal and state level programs working to protect children against these blows. These effective programs need to be fully funded and expanded to cover all children in need. Here, we highlight three of those programs: the Earned Income Tax Credit (EITC), the Supplemental Nutritional Assistance Program (SNAP) and Child Care Subsidy (CCS), but there are many more in place.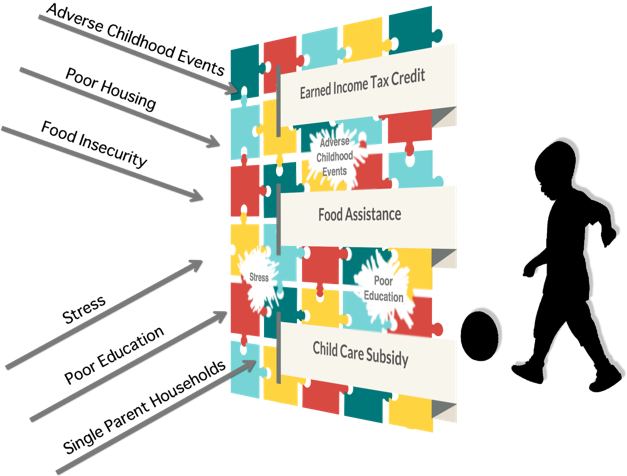 Earned Income Tax Credit
This tax credit has been in place for forty years. EITC provides low-income individuals and families with a yearly tax credit as a percentage of their overall income. According to the Missouri Budget Project, EITC keeps millions of families out of poverty every year, helps mitigate housing burden, improves school performance in children, and has been shown to increase lifetime earnings in children that receive it when they are young.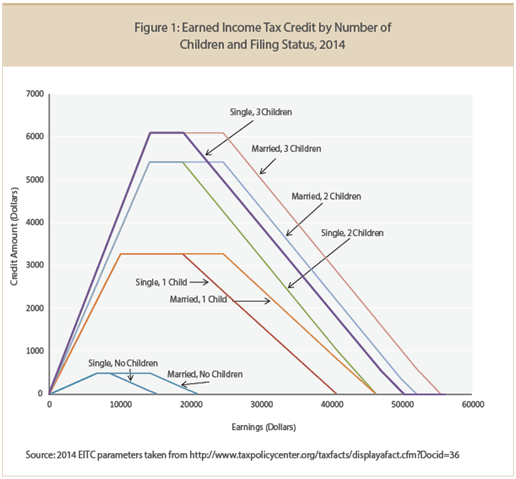 Missouri is one of many states that does not have a state EITC program. Over 500,000 Missouri families receive EITC, but without a state level program this only increases take home pay by roughly $240.00 per month. A state level program could benefit 60% of Missouri families struggling to afford necessities such as housing, food, and education.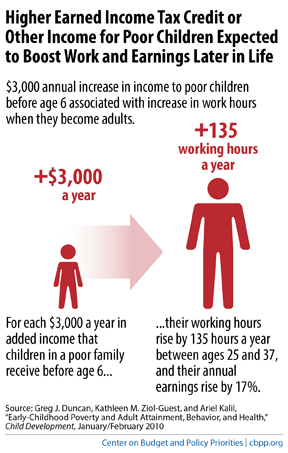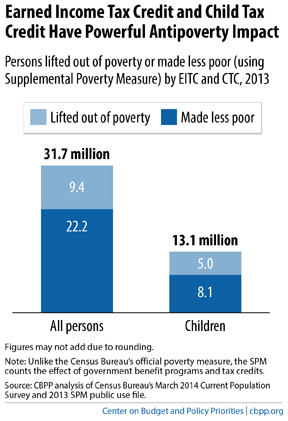 Supplemental Nutritional Assistance Program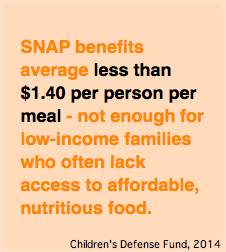 SNAP, also known as food stamps, is another critical program working to reduce poverty. Last week, we showed that Missouri ranks 46th out of 50 in food insecurity, illustrating the SNAP is one of the most important pieces of the hunger safety net for Missouri children. According to a study done by PolicyLab and First Focus, food insecurity has been repeatedly shown to result in adverse health outcomes in children. Food insecurity has been linked to poor academic performance and cognitive development, depression, anxiety, chronic illness, hyperactivity, and substance disorders in children.
One in three, or over 22 million American children receive SNAP benefits. According to the latest MO Kids Count data, 39% of Missouri households with children participate in the SNAP program.
 Child Care Subsidy
The childcare subsidy program helps low income families afford childcare for their children. Missouri has a childcare subsidy program where parents can either receive funds to help pay for childcare, or partial reimbursements for what they pay in child care.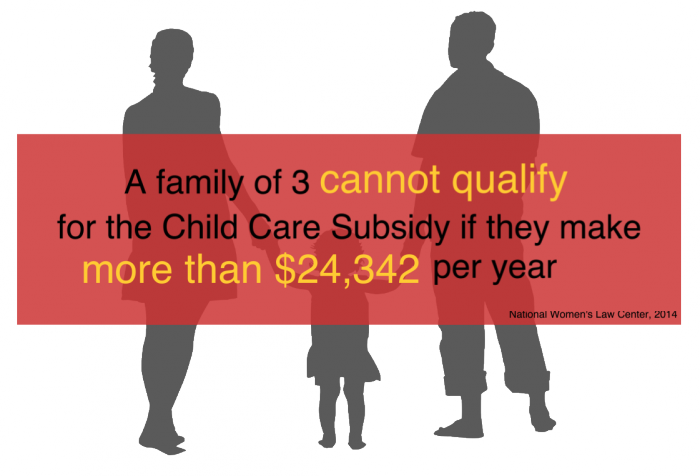 However, according to 2014 study done by the National Women's Law Center, the eligibility requirements to receive assistance are extremely high. Families cannot qualify if they make more than 123% of the federal poverty level or an annual income of $24,342 for a family of three. Furthermore, the reimbursement rate for childcare assistance in Missouri is significantly lower than the recommended federal rate.
Other Programs
This article highlights just three of the many programs working to reduce childhood poverty. Other programs such as the Child Tax Credit, Low Income Housing Tax Credit, Temporary Assistance for Needy Families, and the Children's Health Insurance Program are all valuable programs that help Missouri children and families thrive. It is imperative that these programs continue to be renewed and funded to give our children a stronger safety net.
Why It Matters?
Children are worth our investment. Healthy, educated, confident children are a resource. Children who are intellectually, socially, morally starved by poverty will require far more resources as adults, through increased crime, decreased productivity, worse health outcomes, higher rates of substance abuse, and continued generational poverty.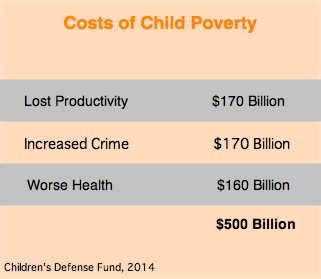 And as a resource, the number of children has been decreasing in Missouri, and in the U.S. Children now make up 23% of the population in Missouri, compared to 27.9% in 1990. As fewer children are born and more adults live longer, the population of the nation is rapidly growing older. The elderly (people age 65 and over) will soon outnumber children under the age of five for the first time in history. In terms of sheer numbers, the elderly population of the United States will more than double in size in only four decades. Neither current levels of immigration nor current birthrates are sufficient to fully compensate for the retirement of the baby boomers. The elderly population is projected to grow far more quickly than the working-age population. The number of working-age adults for every elderly person in the United States declined from 13.6 in 1900 to 7.5 in 1950 to 5.0 in 2000. It will drop to only 2.8 by 2050. This represents an enormous fiscal and economic burden upon taxpayers and workers.
And if those taxpayers and workers are poorly educated, unhealthy, and struggling with the long term effects of growing up poor, we all lose. 
Looking Ahead
This report from the Missouri Association for Community Action provides a glimpse into the current state of poverty in Missouri. Next week we will share stories and perspectives from our Community Partnerships to see how they are working to prevent childhood poverty in Missouri.
February 11, 2015