The Fight Against Food Insecurity
Although the United States is one of the most developed countries in the world, many Americans face a major issue in their everyday lives: food insecurity.
According to the Office of Disease Prevention and Health Promotion, food insecurity is "the disruption of food intake or eating patterns because of lack of money and other resources." In 2015, 14 percent of all Americans (more than 48 million people), lived in food insecure households. Food insecurity does not necessarily cause hunger, but hunger is a possible outcome of food insecurity. Food insecurity can be long term or temporary, and can be influenced by income and employment security and disability status. Poverty and food insecurity are the most connected, and members of race and ethnic minorities are more likely to experience food insecurity.
How does Missouri compare to other states? The 2016 Missouri Hunger Atlas helps shed light on food insecurity in the Show Me State. According to the report, from 2014-2016, Missouri averaged 16.8 percent food insecurity and 7.9 percent very low food security (multiple indications of disrupted eating patterns and food intake). More so, the Hunger Atlas concluded that the state's increase in the average percentage of households with very low food security is the highest in the country, and Missouri ranks among the top 10 states with the highest percentage of households classified as food insecure or having very low food security.
The St. Louis Post Dispatch found that the highest levels of food insecurity are seen among persistent high-poverty areas in southern Missouri and in St. Louis, where it's estimated that nearly 26 percent struggle. Areas in northern Missouri are experiencing increasing levels of poverty and people in need of food.
Food insecurity's impact on children can extend throughout life, as food insecurity is often a predictor of chronic illness, low birth weight, lower school performance and developmental problems among children. The Brookings Institute found that in 2015, 13 million American children lived in a household characterized by food insecurity—more than 1 in 6 children in the nation. A 2017 journal by Child Development found that children who suffered from food insecurity were predicted to have lower cognitive and social-emotional skills in kindergarten. The researchers recommended boosting the availability of food to children under 2 years old to give poor children a better chance at succeeding in school.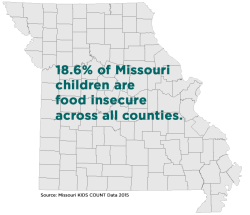 Among Missouri children, food insecurity rates are decreasing. According to Missouri KIDS COUNT Data, in 2010 about 22 percent of the state's children (316,450) were food insecure, while in 2015, that statistic decreased to 18.6 percent (258,610).
We have a long road ahead in ensuring better food security in Missouri, but what can you do to help? Donating to your local food pantry and starting a community food drive are great places to start to make sure people in your region have access to food, and volunteering at these establishments is equally important. We also need to continue the conversation about food security. Contact your elected officials about food security and food policy bills that you do or don't support.
Change is also needed on a broader level — increasing food production and agricultural activities, focusing on diets that are more nutritious, and ensuring poor households have access to food.
Along with Missouri KIDS COUNT, No Kid Hungry Missouri is an initiative of the Family and Community Trust, and connects children in need with programs like school breakfast, after school and summer meals. Summer is a critical time for children's academic and physical well-being, as they are at a higher risk for both obesity and hunger. Visit No Kid Hungry Missouri's website to join the fight against child hunger in Missouri, and click here to learn how you can help the organization ensure children have access to nutritious meals all summer long.
August 15, 2018