The Community Partnership in Rolla is Linking Hearts for Adoption
May 19, 2015
Every September, Rolla, Missouri serves as the venue for a very special event: The Linking Hearts Adoption Fair. Hosted each year for over a decade by The Community Partnership in Rolla, this event is an opportunity for potential adoptive parents to interact with adoptable children from around Missouri.
"Each year the fun starts with the children going to our local recreational center for a time of crafts, swimming, basketball and volleyball," explains The Community Partnership's Community Youth and Development Director, Robyn Wolfe. "Before the children arrive, personalized backpacks are assembled, containing toys, games, or other items for each of them. When they get to the Rec center, they receive Linking Hearts t-shirts and their backpack."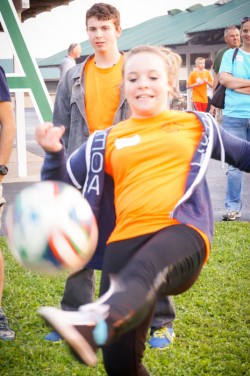 After those activities, the children travel to Lions Club Park in Rolla where they are assigned a "buddy" from the Greek community of Missouri University of Science & Technology. That buddy stays with the child throughout the evening as they take part in games and other activities. Meanwhile, potential adoptive parents sign in and receive information about foster parenting and adoption from Children's Division staff. Last year's opening remarks were given by Tim Decker, the new director of Missouri Department of Social Services, Children's Division.
Partners who make the Linking Hearts Adoption Fair possible include the Missouri S&T Panhellenic Council, Missouri S&T Inter-fraternity Council, Wal-Mart Distribution Center #6069, the Missouri Dept. of Social Services 25th Circuit Children's Division, Rolla Noon Kiwanis, The Centre, The Adoption Exchange, and Results Radio.
"It's always so much fun to watch the children arrive and see their faces," Wolfe adds. "Lions Club Park is transformed by the Missouri S&T Greek Community into a family-style carnival. Sororities and fraternities outdo themselves every year with the booths and games and fun things for the kids to do. The past year's event was no exception. Missouri S&T's Greek Community provides hundreds of volunteers, and a free cookout. The atmosphere gives kids and families the opportunity to interact and learn more about each other."
Wolfe said that about 40 children from several Missouri counties were at Linking Hearts in 2014. "We had more potential families from across Missouri attend in 2014 than we've ever had before. That was very encouraging." "The planning for Linking Hearts starts long before it actually takes place," she explained. "We have community volunteers who help us do the shopping, crafts and the judging of the booths and activities. Over 1,000 hours of volunteer work were served last year's event. Several of The Community Partnership's board members also take part in the activities. I can't stress enough how much we appreciate the university students for all they do to make this event a success."
Successful matches are made each year, and The Community Partnership celebrates "the building of families" as a result of this event. Tim Decker's words last year were both meaningful and true. "I believe that adoption can change the lives of both the children adopted and those parents who take on the responsibility of raising them. I think it's a tremendous blessing to be a change agent in a person's life, and I think the people who adopt children get far more back than what they put in to it. Children can enrich lives. Just ask someone who has adopted a child."
Categorised in: Uncategorized