The Community Partnership of the Ozarks CAN Prevent Child Abuse and Neglect
May 14, 2015
For many years, the Community Partnership of the Ozarks has worked with different partners in the community to prevent child abuse and neglect in the communities we serve. One of our first initiatives was a comprehensive, system-wide mandated reporter training that was developed in partnership with the Greene County Prosecuting Attorney's Office, Children's Division, and the Child Advocacy Center. This initiative continues today and has served thousands in our community since its inception. Thanks to a grant from Messiah Lutheran Church last year, we have developed a new online Mandated Reporter Training to offer another training option for the community.
Set up in six modules that all contain videos and questions after each section, the program allows participants to go at their own pace and each person who completes the training will receive a certificate for 2 contact hours. Both the public and online trainings are open to school staff, church volunteers, youth organizations, daycare providers, and ultimately anyone who has care, custody, or control of children.
Our Child Abuse and Neglect (CAN) Collaborative is focused on strengthening the whole child welfare system. This involves prevention as well as a focus on the capacity to serve children entering care. In the last five years, Greene County Children's Division has had an average of 871 kids in their custody. This has placed a tremendous burden on the foster care system, causing many of the children to be placed outside of Greene County or in homes separate from their siblings. To deal with this issue, CAN is working on recruiting 100 new foster homes in 2015 and 500 new homes by 2020.
The goal of this project is to build up a pool of quality homes so that placements can be more intentional. We don't want case workers to have to scramble to find a home for a sibling group or a child with behavioral issues but to have options so that they can ensure children stay close to families, in the same school district, and with their brothers and sisters. Recruitment efforts were kicked off at a January press conference which resulted in 22 foster parent inquiries coming through within a matter of days. Cherish Kids, a local foster parent recruitment agency, handled the intake and forwarded the inquiries to the local contract agencies in charge of training.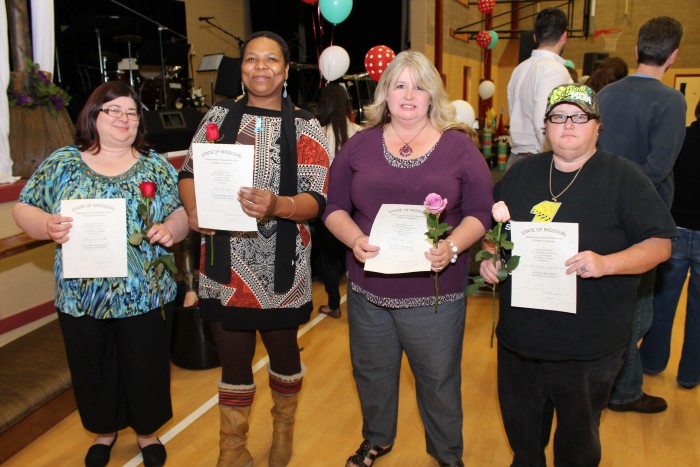 The recruited foster families are currently working their way through their licensure and we look forward to hearing about their first placements. Recruitment efforts continue through CAN's website, www.howitends.org and the work of our partners at Cherish Kids, Lutheran Family and Children Services, Missouri Baptist Children's Home, Midwest Foster Care and Adoption Association, and Missouri Alliance for Children.
Finally, we support our local foster parents each year with a Foster Parent Appreciation Night. Coordinated by our Violence Free Families Coalition, this special night is just a small way that we show our gratitude to those who care for our community's most vulnerable children. All families who attend get to enjoy a free dinner, desserts, and live entertainment by Springfield Improv. It's fun for the kids too who get to enjoy crafts, a movie, and play outside; each family also receives a certificate of appreciation and gift basket. The theme for this year's event is Foster Parents are Superheroes…Saving the Day One Kid at a Time! And really could there be a better theme? They really are saving the day not only for our kids but for our community as well!
Categorised in: Uncategorized